Duration :
17 Days / 16 Nights
Attractions:
Qutub Minar - India Gate - Taj Mahal - Agra Fort - BC Jain Monk Caves - Niyamgiri Hills - Fierce Bondas - Nalabana Bird Sanctuary - Jagnanath Temple - Sun Temple - Lingaraja Temple
Day 01 : Delhi
After arriving in Delhi, our representative receives you and drives you straight to hotel. Night stay at Delhi.
Day 02: Delhi
Delhi - Breakfast at hotel.
Proceed for day tour of Old & New Delhi.
OLD DELHI
- We will go for sightseeing tour of Old Delhi that includes visiting the Raj Ghat - the memorial site where Mahatma Gandhi was cremated; Jama Masjid - the largest mosque in India and the Red Fort - once the most opulent fort and palace of the Moghul Empire.
A cycle rickshaw ride from Jama Masjid to Chandni Chowk.
NEW DELHI
- An elaborate sightseeing tour of New Delhi that includes a visit to the Humayun's Tomb, the Qutub Minar, a drive along the ceremonial avenue - Rajpath. Other attractions that are part of the tour are the imposing India Gate, the grand Parliament House, the President's Residence and the tour ends with a drive through the diplomatic enclave.
Evening will be at leisure. Overnight Delhi.
Day 03 : Delhi - Agra - Delhi
Delhi - Agra - By road covering 201 km in 4hr.
Proceed by roadways for Agra after breakfast.
ENROUTE VISIT SIKANDRA.
Reach Agra and check into hotel.
Agra was established by Badal Singh in 1475. Agra also known as the city of Taj, finds mention in the Mahabharat as Agraban. This city was considered as the sister city of Mathura in those days, which was more prominent than Agraban. Agra situated near river Yamuna was chosen as the capital city by the Lodhi Kings. Sikander Lodhi made Agra his capital but Babar defeated the Lodhis to capture not only Agra but also laid the foundation of the Mughal empire.
As Baber arrived here, the golden era of Agra started and it attained zenith during the reign of Akbar, Jehangir and Shah Jahan. It was during Akbar's period that Agra became the center of art, culture and commerce and learning. This trend achieved its peak when Shah Jahan became the ruler.
From mid 16th century to earlier 17th century, Agra witnessed a frantic building activity and it was during this time when the symbol of love Taj Mahal was built. Mughals build high quality and contemporary style buildings during this era. The same is still reflected in whatever monuments remain in Agra. The narrow lanes of Agra filled with aroma of Mughlai cuisine, the craftsman who are busy in crating master pieces with their skill all remind of the Mughal royalty which this city had once experienced. Today the remains left in Agra have become a major tourist attractions, attracting innumerable tourists to this major tourist destination of India.
Now move further for sightseeing.
Visit the
TAJ MAHAL
- ts construction started by 1631 AD and ended by 1651 AD. It was built by Shah Jahan and is known as one of the Seven Wonders of the World. Taj Mahal is popularly known as the symbol of Love and was built in the memory of Mumtaz Mahal (Shah Jahan' s second Wife).
AGRA FORT
- Agra fort was built by the famed Mughal emperor Akbar in 1565 AD, the fort is predominantly of red sandstone. Ensconced within is the picture perfect Pearl Mosque, which is a major tourist attraction.
In the evening drive back to Delhi and spend the night at Delhi.
Day 04 : Delhi - Bhubaneshwar
Move to airport to catch flight for Bhubaneshwar, arrive Bhubanswar and move to the hotel. Now move further for half-day tour of the city that includes the 2nd century BC Jain monk Caves at the twin hills of Khandagiri and Udaygiri,tribal museum etc. Stay overnight at Bhubaneswar.
Day 05 : Bhubaneshwar - Baliguda
After breakfast drive to Baliguda located in the district of Phulbani, through the beautiful countryside road filled with small mountains of Sal forest, one of the entry point to the tribal highland of Orrisa. On the way you can also visit weavers village at Itamati and some of the typical Orissan villages. After arriving at the hotel in the evening, stay overnight at Baliguda.
Day 06 : Baliguda
Today after breakfast, visit the Barakhamba area to trek to some of the remote villages of tattooed face Desia Kondh tribes. You can go for a long trek or a short trek according to your wish. Stay overnight at Baliguda.
Day 07 : Baliguda - Kothagargh - Rayagada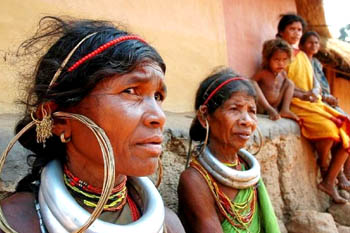 After having breakfast depart for Belghar area and visit a few Kuttiya Kondha Tribal Villages and the weekly Market at Kothagarh. Move further to explore the villages of the primitive Kutia kondh Tribes, once famous for the human sacrifice. The tribal communities live in the mountains and forest cores. Have lunch on the way and drive down to Rayaguda. After arriving in the evening, stay overnight at Hotel.
Day 08 : Rayagada - Chatikiona - Jeypore
Another important place to trek is the most primitive Dongria kondh villages in the Niyamgiri hills. One can also see the Dongria kondh men and women coming down from their mountains with different kinds of fruits and animals etc. to the weekly market. After visiting their villages, one can come down to see their interesting weekly tribal market where they mix with other communities. The weekly market at Chatikona is an interesting event to watch where Doms, Desias and Dongoriya Kondhas barter. Later drive on to Jeypore and the Kani tribal village is on the way. Stay overnight in Jeypore.
Day 09 : Jeypore - Ankadeli - Lamptaput - Jeypore
In the morning we visit the home of approximately 6000 members of the fierce Bondas (naked people). They live in the remote hills and keep themselves isolated. They grow rice by shifting cultivation and keep domesticated cows and goats. They can only be seen when they come to trade at the local market, there fore the visit should be planned in such a manner that it coincide with the weekly market day on Thursday. The Bonda women are noticeable by their bead necklaces, striking brass and silver necklets and their shaved heads decorated with plaits of Palmyra leaves. You can also see the colorful Godabas, Parajas and Mali tribes. In the afternoon drive back to Jeypore and while on the way visit the pottery village Bapaniguda, Siriguda and Paraja tribal village at Lamptaput. Stay overnight at Hotel at Jeypore.
Day 10 : Jeypore - Kunduli - Nandapur - Jeypore
After having breakfast in the morning move further to see the biggest tribal weekly market of Sanaparoja and Mali tribes in Kunduli 65 km away via Sunabeda. It is a very colorful market. Later drive down to Nandapur to visit village of Sanaparoja tribes. Visit village khilua. Saana Padar, Bada Padar with small trekking and later drive down to Jeypore.
Day 11 : Jeypore - Lamtaput - Jeypore
Drive to Machkund which is a soft trek to primitive Boro gadaba villages. Enjoy the traditional dance called Dhemsa. Come back to Jeypore en route Lamtaput market. Stay overnight in Jeypore.
Day 12 : Jeypore - Laxmipur - Rayagada
After taking breakfast, we drive to Rayagada also visiting some Desia kondh/paraja villages, the Jagannath Temple, Tribal Museum at Koraput (The Jagannath Temple is a new temple built on 1972 where non Hindus are allowed inside the Temples and all activities are similar to Jagnnath Temple of Puri). Have Lunch on the way and stay overnight at Rayagada.
Day 13 : Rayagada - Taptapani- Chilka
After having breakfast proceed to Chilka also visiting the Soura tribal villages/market and Taptapani on your way. Nature is at its best in Taptapani, an exotic world of wonder. Experience the beauty of nature and carry the memory years to come. Also visit a hot spring which is a mark of Blessing. Stay overnight at Chilka.
Day 14 : Chilka - Narasinghpur - Puri
Boat drive in the morning into Chilka lake, the largest brackish Water Lake in Asia. During winters Chilika is flocked by thousands of migratory birds as far as from Siberia. Visit Nalabana bird sanctuary and the honeymoon island. Later also visit a few fishing village at Chilka Lake. Watch fishermwn at work, who come here in search of prawns, mackerel, and crabs. Reach Puri via Birnasingpur, Tenta ( Nice Road ! ) and walk to a typical orissan village. Relish their hospitality and relax in the evening on the beach. Stay overnight in Puri. Customize This Tour
Day 15 : Puri - Konark
In the morning after breakfast visit to Lord Jagannath temple, Sankaracharya's Maths located on the downtown area of Puri. Later drive to Konark (about 35kms) to visit the temple Chariot of the Sun God, built by King Langula Narasimha Deva in the 13th century AD in the golden era of Orissa art. In the late afternoon visit Ragurajpur artisan villages and also some other villages with houses, decorated with Chita's for Goddess Lakshmi. Stay overnight at Puri.
Day 16 : Puri - Pipili - Bhubaneshwar
Move further to Bhubanswar also visiting the colorful appliqué village of Pipili where one can see the colorful Orissa handicrafts and Dhauli peace pagoda famous for the Ashoka rock edicts dating back to 2nd century BC. In the afternoon, visit some of the ancient temples of Bhubanswar belonging to (7th---11th) century AD, like Lingaraja temple, Parasurameswara temple, Mukteswara temple, Bramheswara temple, Raja-Rani temple etc. Stay overnight in Bhubaneshwar.
Day 17 : Bhubaneshwar
After breakfast move to Bhubaneshwar Airport to board flight to Delhi or onward Destination.