Duration:
13 Days / 12 Nights
Attractions:
Humayun Tomb - Light Show at Red Fort - Ghat Life - Yoga & Traditional Meditation Class - Ganga Arti - Rishi Kund Temple - Panchkarma Treatment - Sikandara - Taj Mahal - Itmad-ud-Daula - Fatehpur Sikri - Amer Fort - Hawa Mahal
Day 01: Delhi
On arrival you will be met by our representative and transferred to hotel.Overnight at hotel
Day 02: Delhi
Morning city tour of New Delhi covering Birla Temple, India gate, Parliament area, Government buildings, Humayun Tomb, Qutab Minar. Afternoon city tour of Old Delhi covering Gandhi memorial, Jama Masjid, followed by sound & light show at Red Fort. Overnight at hotel
Day 03: Transfer to railway station to catch train for Haridwar
Arrive Haridwar/ Rishikesh. Met upon arrival and transfer to High Bank Peasants Cottage . After a welcome drink and acclimatization briefing about the whole program, followed by introduction to the Yoga teacher followed by a short meditation. Evening visit the Ghats s to encounter evening Ghat life as well as special Arti The Prayer dedicated to Goddess Ganges the town of ashrams and temples, Ghats and pilgrims, mountains and the holy Ganges. When global orange sun suspended, waits low amid the red/yellow streaked horizon, then all these combine to give this town a very special evening. The temple bells roar, priests enchant mantras. Immersed in sublimation stand the pilgrims. Cupped leaves, with saffron marigold petals and a small candle flame, flickering ride the current of water of wisdom. Suddenly the sky darkens, spreading a blanket of stillness. Everything stops, except the sound of current, which has just sunk the tiny flames of cupped leaves, few minutes back. After experiencing above we trace ours steps back to the hotel. Dinner and overnight hotel.
Day 04
Yoga
Early morning drive or walk to the yoga centre for yoga class followed by relaxation of body & mind. After relaxation learn about breath awareness exercise & stretching exercise. After yogic breakfast Evening in-house yoga & traditional meditation class with visiting instructor
Ayurveda
Ayurvedic and Wellness Consultation - Morning before breakfast the Ayurvedacharya will check your body type and explain you different Doshas and details of prevention, maintenance and the improvement of ones health and overall sense of well-being.
Culture
Late afternoon visit the Triveni Ghats for exclusive Ganga Arti, dedicated to Goddesses Ganga .Overnight hotel.
Day 05
Yoga
Early morning drive or walk to the centre .Today we will do relaxation, asana, followed up by yognindra. Breakfast.
Ayurveda
Stimulating & purifying Ayurvedic therapy as per the Ayurvedic consultant. Evening followed by modern meditation . Meals and overnight guest House.
Culture
Visit the ancient Bharat mandir & Rishi Kund Temple in Rishikesh. Meals and overnight hotel
Day 06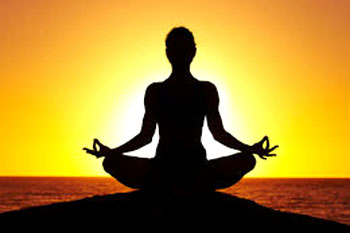 Yoga
Today we'll get training for PRANAVAM (advance breathing), Dynamic yoga. advance yoga postures. Breakfast.
Aayurveda
Panchkarma - Start your panchKarma****treatment today.
Culture
Drive up to Vashistha Gufa. The entire drive is along the river Ganges towards the source for about an hour. Arrive and explore vashistha Goofa (cave), where famous saint Vasistha, meditated. A perfect place for transcendental meditation. Late afternoon drive back to resort. Evening meditation & lecture. Dinner and overnight stay.
Day 07
Yoga
Early morning wake up for Pranayam & advance techinque of Yoga. Evening followed by meditation and curative yoga.
Aayurveda
Panchkarma - Start your panchKarma****treatment today.
Meditation, Culture & Nature
Evening we drive to Kunja Puri, one of the important Goddess temple on the mountain top. Nature Walk to ***Panchakarma
This five-fold purification therapy aims at correcting the imbalance of the bodys Doshas or bioenergies (Vata, Pitta and Kapha) in order to maintain their inherent equilibrium and Ama, which forms as a result. Panchakarma therapy has three main stage : Poorva karma, Pradhanakarma and Paschatkarma. Poorvaa karma, the first stage, comprises essential preliminary procedures for preparing the body to unload stored toxins. The treatments help to loosen Ama (toxins) and move it out to the deep structures into the GI tract, where Panchakarmas cleaning therapies can then eliminate it. Pradhanakrarma is the second stage and includes the main cleansing therapies. Paschatkarma is the final stage and describes the measures employed after the main treatment, such as diet, medicines and daily routine. Meals and overnight hotel.
Day 08
Yoga
Early morning followed up by VIPASANA class. Evening curative Yoga and meditation class.
Aayurveda
Panchkarma - Start your panchKarma****treatment today.
Meditation, Culture & Nature
Full day trip to Devprayag, one of the five most important confluences of Garhwal Himalayas. Arrive and explore the area. Also visit 10th centaury old temple of Ragunath ji. Meals and Overnight hotel.
Day 09
Early morning practice advance posture of yoga & vipasna .Day free for own activities. One can stay back / take Shatabdi Express back to Delhi. Important
The yoga activities in the course are flexible and intensity of the classes will change as per the interest of the participants.
Day 10: Delhi - Agra
Morning drive to Agra enroute visiting Sikandara, on arrival check in into hotel. Afternoon half day city tour is being organized covering Taj Mahal, Red fort, Tomb of Itmad-ud-Daula. Overnight at hotel.
Day 11: Agra Jaipur
This day drive to Jaipur enroute visiting old deserted town of Mughal Dynasty Fatehpur Sikri. On arrival check in into hotel. Afternoon enjoy city atmosphere which by many means is fabulous. Overnight at hotel.
Day 12: Jaipur
Morning you will be taken to Amer Fort, where you will have the sheer pleasure to enjoy the Elephant Ride. Afternoon city tour covering Hawa Mahal, City Palace, Royal Observatory & Bazaar. Overnight at hotel.
Jaipur Delhi
Morning free. Late afternoon drive back to Delhi upon arrival you will be taken to hotel where we will be holding a few rooms for wash & change. Have your dinner being organized by us. Transfer to International Airport for flight back home.